You've probably heard of Cebu because of Sinulog, the yearly religious and cultural festival celebrating Santo Niño and one of the biggest festivals in the Philippines, but there's more to it. If you're planning to get a last-minute vacation before the year ends, Cebu should be one of your top destinations to consider. Cebu may be considered the second largest urban area in the Philippines but it has been a top favorite go-to vacation place because it has an interesting balance of a lively city life and a laid-back, quiet haven. Also known as the "Queen City of the South", it is home to several white sand, virgin beaches and other fascinating cultural and natural tourist spots, Cebu has local and foreign tourists in awe of its beauty and rich traditional heritage.
But over the years, tourists are not only attracted by the picturesque Cebu sights but also with its distinct flavors in the local food scene. You'll definitely experience #foodgasm just by mentioning the word, Cebu. "Kaon ta, bai!", is the common phrase you hear from people when you are in Cebu. Like other places in the Philippines, Cebuanos love to eat and have a lot of great dishes and delicacies in their arsenal.
Here are the top ten foods and food places to try when you visit Cebu:
Lechon

de Cebu.

Lechon

de Cebu will

always

be number one on the list.

Lechon

can be found in numerous provinces and even have

festivals

celebrating this mouth-watering roasted pork

dish

(like the

Lechon

Festival in Balayan, Batangas every June 24th), but

Lechon

de Cebu is the top favorite among the rest because of its

unique blend

of flavors. It's so in-demand that Cebuano

lechon

restaurants can actually arrange for you to send one whole or per kilo

lechon

via air travel anywhere in the Philippines. Must-

visit

lechon

restaurants are CnT

Lechon

and Rico's

Lechon

.
Puto Maya and Sikwate. This

breakfast and snack combination

is a staple in Cebu. You can find it sold in the

streets

early

morning

near churches or public markets, or even just around the

neighborhood

. Puto Maya is made from "pilit" or glutinous

rice

mixed with "gata" or coconut milk and some ginger. Sikwate is our local take on the Western hot chocolate drink made from "tablea" or compacted cacao shaped into small medallions, which is then boiled and added with sugar. Typically, this combo is also best served with sweet mangoes from Cebu. You can try this delicacy anywhere but if you prefer a gourmet one, try Tablea Chocolate Café.
Tuslob-Buwa. If you're feeling

adventurous

, this savory local

dish

might be your next favorite. "Tuslob" which means "to dip", and "buwa" which translates as "bubbles". This

dish

is made from pork brain and liver and mixed with garlic, onions, some soy sauce or

fish

sauce and cooked in pork lard, which makes it tastier. It is cooked until the mixture transforms into a gravy-like consistency. When it reaches its desired state, that is when you would dip "puso" or hanging

rice

to the mixture and enjoy it. It originated from Pasil, Cebu, which is a famous

fish

market

here. Originally, tuslob-buwa vendors sell it in

big

batches literally cooked in

big

woks in the

streets

near Pasil

Market

.
Note: Pasil Market has a reputation of being a bit unsanitary so if you plan to try tuslob-buwa there, you should check the vendor's place first.
Pungko-Pungko. Aside from tuslob-buwa, street-

food

is so alive in Cebu with pungko-pungko in almost every corner of the city's busy

streets

. It got its

name

from the word "pungko" which means "to squat" because initially, pungko-pungko vendors would

bring

a

big

white storage box as a

food

container and fill it with fried

food

like hotdogs, squid balls, shanghai rolls, "ginabot" or deep-fried intestines, and puso, and buyers would literally squat to

eat

whatever

food

they ordered out of the pungko-pungko box. Today, you can find more convenient pungko-pungko places like the one near Cebu Doctor's University in Mandaue and Saucy Pungko in Tisa.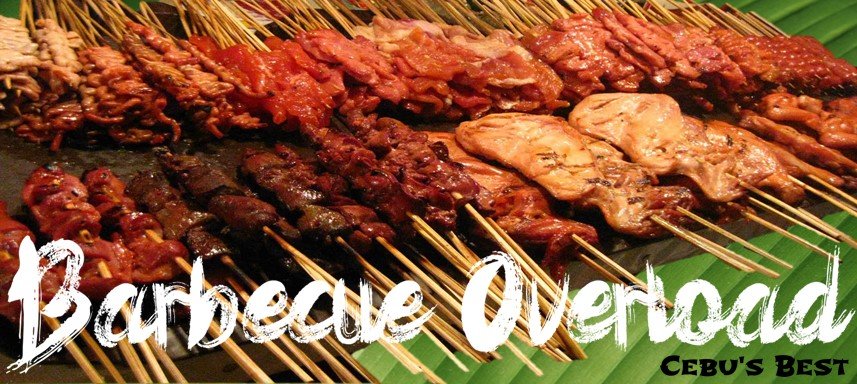 Barbecue Overload. If you

haven

't realized yet, Cebuanos

love

street

food

and what other way to show that than having barbecue. The most famous place to

visit

for good barbecue with a wide variety of choices is Larsian near Chong Hua Hospital in Cebu City. Find vendors who will grill you fresh seafood, pork, chicken, and other grill-worthy

food

items you wish to devour.
Pochero. Whether it's

rainy

or not, you should definitely try the Spanish-inspired beef stew pot here in Cebu. Pochero is one of the comfort

foods

that locals and tourists enjoy any time and any

season

. In

other places in the Philippines

, it may be called "bulalo", but the Cebu Pochero has its distinct local flavor that you'll

love

. It is basically beef and bone marrow with bok choy and corn slow cooked for hours. You'll

know

it's the

perfect

pochero when the meat falls off the bone when you touch it with a fork and the soup has that savory-sweet

taste

to it. You can check out Kusina Uno in Mandaue or Marjo's Pochero in Cebu City near Cebu Capitol.
SuTuKil. "SuTuKil" is an abbreviated term for three commonly

practiced

seafood

cooking

styles in the Visayan region, and that is, "Sugba", "Tuwa", and "Kilaw". "Sugba" or "to grill" is almost a default

cooking

style especially because most restaurants have a wide variety of fresh catch of

fish

and other seafood. "Tuwa" or "to stew" is also a common method in preparing a seafood

dish

. Like its Tagalog version called "

Tinola

", you combine seafood with

vegetables

such as cabbage, pechay, or bok choy, tomatoes, and ginger and allow it to simmer. Lastly, "Kilaw" means "to

eat

raw". It is a local version of the famous Japanese

dish

called "sashimi" wherein you fillet

fish

or choice of seafood and allow it to sit in vinegar along with other ingredients like tomatoes, ginger, onion, and sometimes, green mangoes, just like a salad. Best places to try SuTuKil are the following: STK ta Bai near Capitol Cebu or Sutukil Seafood

Market

Restaurant

in Punta Engano, Mactan.
Mango Pizza. Tired of the usual pepperoni and cheese pizza? Try this sweet twist to your favorite snack – mango pizza! Decadent sweet mango puree sauce topped with green peppers,

mushroom

, and cheese. The Pitstop

Restaurant

in Capitol Site Cebu offers this delightful treat since 2015.
Siomai and Ngohiong. If you want to get a quick snack or just craving for cowboy-style dimsum, then you should definitely check out Siomai sa Tisa, Kuya Jeff's Siomayan, and Ngohiong Express. Siomai and ngohiong is the

perfect

pair to go if you're craving for Chinese

food

but on a budget. This combo along with the famous puso or hanging

rice

and a bottle of ice-cold softdrinks will definitely satisfy your cravings.
Halo-Halo. Just a few blocks from Siomai sa Tisa, you can see a lot of

food

stalls that offer budget-

friendly

halo-halo. Grab a special halo-halo at Melton's Halo-Halo in Katipunan St. After that sumptuous dimsum

meal

or any Cebuano must-try

food

you intend to try, this Filipino dessert will cap of your Cebuano

food

adventure

. The term "halo" which means "to mix" describes how you should enjoy eating this

dish

. In each halo-halo

serving

, you will find a combination of sweetened banana,

sweet potatoes

, sweet beans, gelatin, tapioca,

leche flan

, ube halaya, shaved coconut, corn flakes, and many more (depending on where you get your halo-halo) over shaved ice and milk, and topped with a scoop or two of your choice of ice cream. If it doesn't sound like a

heavenly dessert

for you, then I

don

't

know

what is.
Cebu is not only a place to go for its scenic tourist spots and beautiful beaches. The foods that locals typically consume on a regular basis gives you an idea that Cebuanos love to eat and socialize at the same time, evident in how most of the top foods listed are predominantly street food or dishes that can be shared by a group. So, the next time you plan to have a vacation, plan a two-three day tour in Cebu and be amazed of what the city has to offer.
Learn Tagalog
Learn Cebuano
Learn Ilocano